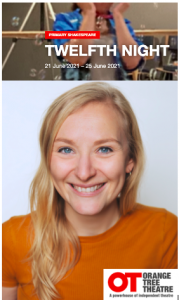 Jessica Dennis will be performing as Maria/Viola in Twelfth Night at the Orange Tree Theatre 21st – 25th June
If music be the food of love, play on!"
Viola loses Sebastian but finds Orsino who is in love with Oliva which is a shame because Viola loves Orsino but Olivia loves Viola…sort of and don't get us started on Malvolio!


This fun production of Shakespeare's comedy, directed by Fiona Drummond specially for under 12s, will be touring primary schools in South West London this summer. Before we do, come and catch one of our 4 performances at the OT. 
Tickets can be booked here https://orangetreetheatre.co.uk/whats-on/twelfth-night

For school bookings please contact Liam O'Shea liam.shea@orangetreetheatre.co.uk