Introduction
Dramanic is a company that attempts to find the latest casting information and presents speculative opportunities. ACT has it's own Dramanic account, which we check twice every week, forwarding the relevant casting details to our clients.
What to do
Look at all breakdowns after the last check on the Casting Calendar (this should be noted on the TagMin task).
If you see anything that can straight away be applied for, send it over to whoever is appropriate.
If there isn't a full casting breakdown or a way to apply right now?
Contact the venue/casting director/company to find out more about the upcoming productions.
If a self-tape/meeting/job is booked via Dramanic – add to Submission Source in TagMin Additional Info.
How to use Dramanic
Before heading to Dramanic, check where the last person to check got to on TagMin, this should be recorded in the Task.
Sign in to Dramanic from the ACT Homepage or here.
Click on the Casting Calendar and find the last casting to be checked.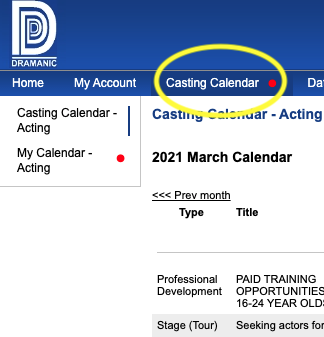 Send over any casting breakdowns you think an agency member may be interested in/appropriate for.
Dramanic has different types of breakdowns, there are casting breakdowns that have links in them to apply through, casting breakdowns with character breakdowns and Venues/Companies posting about new shows, productions, seasons upcoming, for information only.
As there's No Deadline for breakdowns on the Casting Calendar, Dramanic ideally needs to be checked everyday and updated on the TagMin task, the deadline for each casting/information breakdown is found when clicking on see to more
If a member gets an audition via Dramanic, you can add this when creating the meeting/self tape in TagMin under Submission Source in Additional Info
Using Dramanic has a research tool:
Dramanic has a tap at the top 'Database', most casting directors, theatre companies, theatres, film production companies, voice over companies etc details are kept on there.
It's a very good way of seeing what a company/venue is planning for the next few months and a great jumping off point for doing more research.
If any agency members have worked with a company/venue in the past and they are now announcing new work, it might be worth contacting them and reminding them about the member.
Using Dramainc as a Submission tool:
Videos
You can also follow these handy little videos: