Introduction 
The Meeting Preview document is a live, googledoc that is created on the Tuesday after a meeting. It is used by attendees to update their comms/add in any IFDs, as a guide for the Chair and as a minute template for the Minute Taker.
To view an upcoming meeting preview, you can follow the link on the Weekly Journal, or go to the Weekly Journal, click on the Blue striped icon in the top left of the screen and check if Preview exists for the date of the next meeting. If not, you need to create one.
A Meeting Preview will be created each Tuesday morning following a Monday Night Meeting.
Meeting Previews should be shared:
In the Weekly Journal
On the Friday before a Monday Meeting, linked in the body of the meeting reminder email.
What to do
Create the Google Doc
Update the Weekly Journal
Login to ACT Dashboard
Edit ACT links page
How to Create a Meeting Preview
1. Create the Google Doc
Open Weekly Journal, go to File –Open –Office-Admin–Meeting Preview-TEMPLATE
File -Make a Copy –re-name as "Date" Meeting Preview –OK
A new tab will appear. Rename the Title to "Date Meeting Preview"
Edit the "Pre Meeting" body of the document to include Date, Zoom link (if audition), Chair, Working, Sabbatical, Apologies (if Known)
Add Auditionees and link to CV
Top right, click "Share" –Under the "Get Link" Section –Click on the blue writing "Change anyone with the link"
After the option has popped up, to the left of "Anyone with the link" change to "can edit" –copy link –Done
2. Update the Weekly Journal
Change the Date next to "Next Meeting Preview Doc" and make correct date
Highlight the new date and add the Meeting Preview link as a hyperlink (highlight the text and press cmd/ctrl K)
3. Log in to ACT Dashboard
If you are not logged in, a username and password box will appearStart to type ACT in the Username screen and the information will auto populate (If you are already
If you are logged in, the Dashboard will appear looking like this: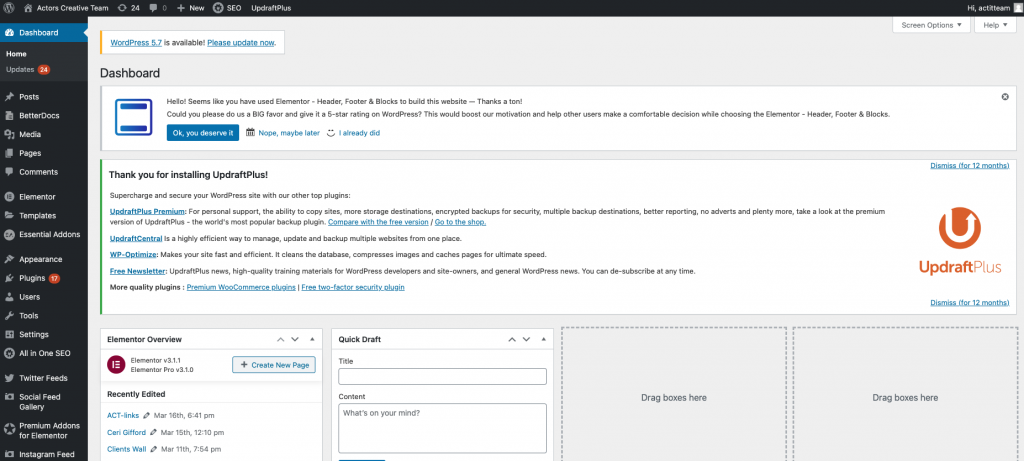 4. Edit ACT links page
Select the home button next to the address bar, this will open the ACT links page
Select Edit with Elementor (from just below the address bar). A new tab will open
Select the Meeting Preview. On the left hand side you will see your editable options
Paste the link into the box under the word link, replacing the previous weekly journal.
Select Green "Update"
5. Make a cup of tea
If all doesn't go to plan, press the Green Question button and a member of the training team will be on hand to help!