How to…
ACCESS SPOTLIGHT AGENTWEB Feed directly via our Internal Homepage (where log in details are automatically saved) and submit from there only.  

From the ACT Homepage, select the 'Spotlight' icon.  

This should automatically take you to the Jobs Feed section of the website, showing all jobs requesting submissions. If it doesn't, you can easily navigate to this page by selecting 'Matching my filter' under 'Jobs Feed' on the left-hand side of the screen.
All unread breakdowns are highlighted in light purple, with a thick purple line down the left-hand side.  

Ideally, look at the breakdowns that are soonest to close first. You can check the closing date on the right-hand side of the screen. 
READ THE SUB carefully and read any small print, such as 'sub by e-mail' or 'named actors only' etc. Make sure to read the whole breakdown as there might be other, more suitable roles at the end.
NB: Check rates of pay, especially for commercials. If the pay is marked as 'Equity rate' and isn't, please forward breakdown to Tim Gale at Equity.
CHECK AVAILABILITY of any client who fits the brief on Tagmin.  

An easy way to check availability on Tagmin is by using the 'Filter' tab top right.   
Under the 'availability' section, fill in any and all dates (eg. Casting, Recall, Shoot, Rehearsals, Performance dates etc.)   
Scroll down to click search – this will bring up a list of all actors and any potential clashes.  
NB. Read these carefully, as all events will be flagged – but may not prevent the client doing the job!
If a client has 'Please Check' on Tagmin for the dates of the project you want to sub them for, then contact them with details of the breakdown as per their preference (Telephone/WhatsApp/Email) on the Preference Grid.
If the client wants to be contacted by email, you can forward them the breakdown via email. This can be found in the 'Spotlight Breakdowns' folder in the inbox in Outlook. Highlight the relevant role and remove the red box that says 'Suggest Clients' under each role. You are sending the client the information only, not the link.
CHECK SUITABILITY of client and if they have the required skills or accents etc requested in the breakdown.  

Check playing age and any appearance requirements.  
Check the Preference Grid to make sure the client is happy to do certain jobs, (there's no use crafting the perfect sentence to sell the client for a role in Sleeping Beauty if they're a 'No' to pantomime!) and check Client Wall (virtual or in office) in case there is any other relevant information the client wants you to know. 
NB. It's always a good idea to talk over your choices with whoever is in the office with you, as two heads are better than one and they might suggest someone you hadn't thought of.
Ideally only sub an actor for one role, unless they are perfect for more than one. If you do this, please make a note in the comment box that they've been subbed for another role by cross referencing.
SELL THE ACTOR and highlight why they are perfect for the role, making sure to highlight any skills, accents or requirements which are asked for, whilst keeping comments concise and breakdown specific – remember that many casting directors only look at the top line of text in the box.
NB. If we have more than one client suitable for a role, sub as many people as you think fit the breakdown.
EMAIL SUBMISSIONS VIA SPOTLIGHT:
Log into Spotlight page with agency log in via the ACT homepage and click 'Email client CV' on the left hand side of screen.   
Select the actors you want to suggest and click 'Next'.   
Put the email address of the recipient in 'To' and remember to tick 'send me a copy of the email,' and change the subject heading of the email to something relevant to the job.   
Type your message and remember to write the role you are submitting each actor for in the comment box under their name, making sure you select the best photo for the role.   
Click 'Preview' and if you're happy, send it off.   
Create a new submission in Tagmin on the client's page, inputting any information you know about the production, and linking any contacts. Include any specific notes you made to the Casting Director in the email.  
It is possible to send email submissions through Tagmin itself, but this is not a function we use . 
COMMERCIALS 
Unless the breakdown asks for specifics, e.g. a Scottish accent or actors 6ft and over, you don't need to write anything in the box when submitting a client. The casting director will get all they need from the photo. If they do ask for specifics, highlight them in the comment box e.g. Annekoos is a native Dutchwoman or Jonathon is 6ft 7. If they ask for 'beautiful' they mean model looks, so although we are all beautiful in our own way, only sub if the actor actually does have model looks.
TELEVISION & FILM 
Some casting directors have informed us that they will not call people in without a showreel, but others have indicated (and proved in practice) that they will. So ACT policy is that we will submit clients for screen work even if they don't have a showreel, especially if they are particularly appropriate for a role. Of course it's worth saying that it is absolutely preferable that you do have a showreel and, if you don't, work on having one ASAP! If an actor has a showreel, use the opportunity to find an appropriate section and refer to it by time code.
THEATRE 
Highlight any skills that the breakdown asks for. This could be singing range, accent, physical skills etc. Mention any relevant work, e.g. if subbing for a Shakespeare play, refer to any Shakespeare work, even it was at drama school. Mention any theatre work which might be relevant, e.g. if it's a comedy mention any recent comedic roles the actor has played.
TOP TIPS FOR WRITING SUBMISSIONS 
Choose the best client photo for the role. 
Sell the actor, and highlight why they are perfect for the role, keeping it specific and brief.  
Match your comments to what is written in the original breakdown, being sure to highlight any skills, accents or requirements which are asked for, using the clients Imaginative Descriptions for inspiration, but… 
DO NOT JUST CUT AND PASTE IMAGINATIVE DESCRIPTIONS – BE CREATIVE!  
DRAMANIC 
Dramanic is a casting service that operates slightly differently from Spotlight as not everything we see on it is a casting breakdown. Whereas casting directors use Spotlight to actively seek out submissions from actors for specific roles, Dramanic provides information about upcoming productions, what roles they may be looking to fill, and information on creatives that may be attached to the project already.
However, this doesn't mean that without a little legwork from the AOD, it may not become a job for one of our clients!
CHECKING DRAMANIC 
Dramanic post updates once or twice a week, usually on a Monday and then Thursday or Friday. Due to the nature of the information, it is generally not time-sensitive, and as long as we check one it once a week, we should see everything that comes up in good time.  
To log in, click on the Dramanic icon on the ACT homepage. If for whatever reason you cannot login automatically, click the yellow 'My Dramanic' button in the top right corner of the homepage. The username is office@actorscreativeteam.co.uk, and the password can be found in the Tagmin task.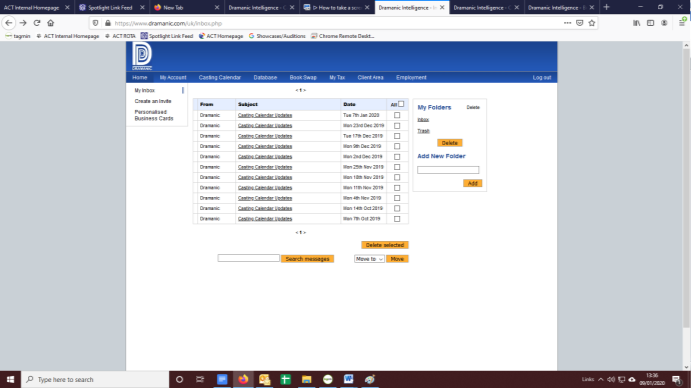 The site will open here (above) where the weekly updates bulletins are posted. However, the bulletins only show a few jobs/leads. 
Click on the Casting Calendar button which can be found in the header.  
The casting calendar for Dramanic is where we can view all jobs/leads. Here you can find most of the basic information about a job, the venue, the director, whether it is paid or not etc. Unlike Spotlight, Dramanic does not have a 'Posted On' date for each listing. The easiest way to check whether a job has been viewed by us is to check the task in tagmin, where the previous Agent of the Day will have noted the last listing they opened. Anything above that listing is unread.  
To read more about a listing, click on the 'More Info' button in the 'Details' column.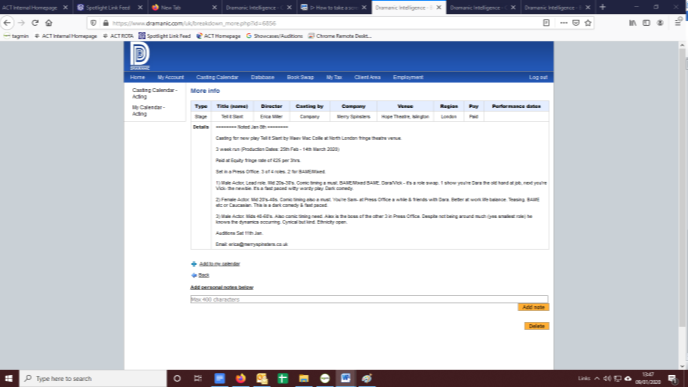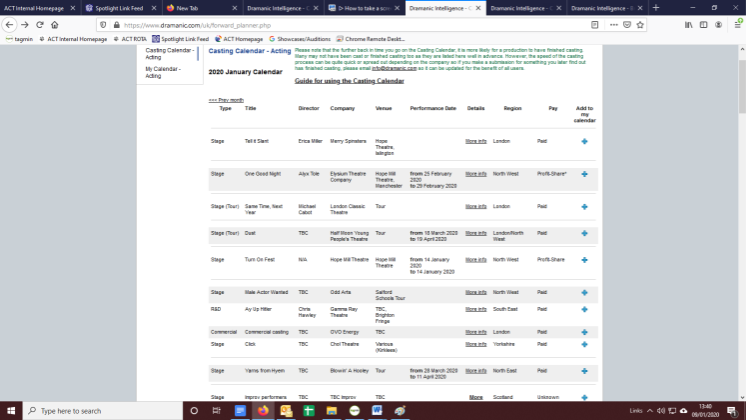 This will provide all information held about the job and roles. 
If contacting a client about a role, THIS IS THE INFORMATION WE SEND.  
If the post is a casting call, the contact information will usually be at the bottom of the post.  
NON-CASTING CALL POSTS 
As mentioned, not all posts on Dramanic are direct casting calls, but informative posts. As agents, if we see something that we think one of our clients could be suitable for, we should make a reasonable attempt to reach out to the relevant company and introduce ourselves as we would in any other instance.
AODs should use their best judgement when doing this with Dramanic. Chasing up these leads can be very time-consuming, and if the office is otherwise busy, your time may be spent better elsewhere. If this is the case, forward the information available to our client. If they are interested, we advise that they do some initial research. The agency can then either use these details to push the client, or send a follow up email if the client chooses to get in touch with production/casting themselves.