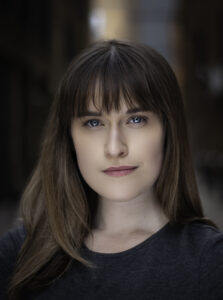 Robinson, Alice Robinson…
is starting rehearsals next week with Eastern Angles for Bond style spoof 'From Rushmere With Love'!
The new comedy with music written by Brendan Murray will be showing at the Sir John Mills Theatre, Ipswich, in an intimate cabaret setting for the Christmas Season. Alice will be playing a host of wonderfully silly characters – Bond Girls and Femme Fatales, Russian Generals, and a strong-minded nuclear physicist (and ornithologist) Kitty O' Plenty.
Following the merger of MI5 & MI6, James Boond (double-O agent) is sent to investigate the mysterious disappearance of a famous nuclear scientist…but what more will he uncover?
This will be Alice's first production with Eastern Angles, the fantastic touring theatre company for the East of England. 
Audience have the option to enjoy the show from home or in the Sir John Mills Theatre, 8th December to 8th January.
Full details of this years's alternative to panto here